Webwinkel en bestemmingsplan tips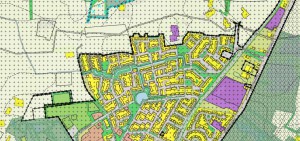 Detailhandel via internet bezorgt gemeenten hoofdbrekens
De verkoop via internet is in 2011 sterk gegroeid. De verwachting is dat de Nederlandse interneteconomie ook de komende jaren fors zal groeien. Detailhandel via internet bezorgt zowel gemeenten als ondernemers nogal eens hoofdbrekens. Regelmatig komt in het nieuws dat de gemeente een ondernemer belemmert om een webwinkel te beginnen. Dat beeld is naar mijn mening ongenuanceerd en onjuist. Wel is het zo dat deze vorm van detailhandel meestal niet past in de reguliere definities die in bestemmingsplannen worden gebruikt. Ook lastig is dat er verschillende vormen van internetwinkels zijn:
webshop waar alleen een elektronische transactie tot stand komt
webshop met opslag en verzending
webshop met tevens afhaalmogelijkheid
webshop met afhaalmogelijkheid en mogelijkheid om producten ter plaatse te bekijken.
Webwinkel en bestemmingsplan: is het mogelijk een webshop te beginnen in een woning?
Het is belangrijk om voor de start van een webshop eerst het bestemmingsplan te bekijken. In het bestemmingsplan is het gebruik van gronden en de hoogte van bouwwerken geregeld. De bestemming en de planregels geven aan wat wel en niet is toegestaan. Bij de gemeente kun je het bestemmingsplan opvragen en inzien. Bestemmingsplannen die na 1 juli 2008 zijn vastgesteld door de gemeente zijn digitaal te raadplegen via
www.ruimtelijkeplannen.nl
. Oudere plannen kun je inzien bij het loket van Bouwen en wonen bij de gemeente.
Ruimtelijke uitstraling van webshop is belangrijk
Indien voor de woning de bestemming 'Wonen' of 'Woondoeleinden' geldt is het in de meeste gevallen mogelijk een webwinkel te beginnen in een woning. Het hangt echter af welke ruimtelijke uitstraling de internetwinkel heeft. De webshop mag geen 'groot ruimtelijk impact' hebben. Dit houdt in dat de webshop ondergeschikt moet blijven aan het hoofdgebruik als woning. De verkoop van producten mag bijv. niet leiden tot meer bezoekers. Dit kan immers leiden tot parkeerproblemen in de nabije omgeving. Hou er rekening mee dat gemeenten hier vaak klachten over ontvangen van buurtbewoners. Voorkom dus dat klanten de aangekochte spullen moeten ophalen.
Ook het aanhouden van grote voorraden (opslag van goederen) kan leiden tot overlast voor de buurt of er voor zorgen dat de woonfunctie niet meer het hoofdgebruik van de woning is. Er ontstaat in dat geval strijd met het bestemmingsplan. De gemeente kan dan handhavend gaan optreden. Ook een reclamebord voor de webshop aan de woning is meestal niet toegestaan. Heeft een webshop wel een groot ruimtelijk impact dan zal de gemeente de webshop meestal als detailhandel aanmerken en is het gebruik op grond van de bestemming 'Wonen' of 'Woondoeleinden' niet toegestaan.
Belangrijkste aandachtspunten
check vooraf het bestemmingsplan bij de gemeente
laat klanten de aangekochte goederen niet ophalen bij de woning, maar laat de goederen per post verzenden
voorkom grote voorraden die tot overlast voor de buurt kunnen leiden of tot strijdig gebruik van de woning
reclameborden voor de webshop aan de woning zijn niet toegestaan
voorkom overlast voor de buurt
Meer weten?